So, tonight I cooked dinner for the family. I know, scary, right? But, it's okay, Mom helped me "velvet" the chicken. Actually she did it while I slept this morning. It's apparently a very important step in the process of making poppyseed chicken. You, too, can learn how to velvet chicken by going
here
. :)
Ingredients:
2 or 3 chicken breasts, boiled and cut into small pieces
1 16oz. Sour Cream
2 cans Cream of Chicken
2 tbsp Poppyseeds (I don't measure, I just shake a ton in!)
1 tube Ritz Crackers
1 stick of butter
Directions:
Mix the first 4 ingredients and put in a baking dish. Cover with crushed up Ritz crackers. Melt a stick ofbutter and pour on top. Bake for 20-30 minutes at 350.
We served it over leftover coconut rice from
last night's dinner
and I think it tasted better than it would have over regular rice. Overall, the "Poppyseed Chicken attempt" was much better than the "Minute Rice Chicken and Rice attempt" from earlier this summer. It was so good, in fact, that I forgot to photograph the evidence until it was halfway eaten. Oh well.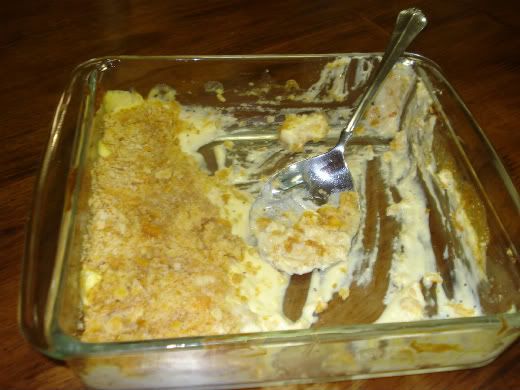 Max decided not to join the madre, padre, and I on the Poppyseed Chicken adventure. He chose to go the Eggo waffle route so he could sing the "Do you like waffles, yeah I like waffles" song. Below, is a picture of Max and I displaying our love of the waffle.
As you can tell, it has been another not so ordinary, fun day in the Adam household. On to school supply and clothes shopping tommorrow, and preparing for the Alabama Prospective/ Potential/ some P-word Teacher Test on Satuday.