So, Sunday night, Mom and I went to Frazer to see Fee and Jonny Diaz. Oh- and a little group called MercyMe, too. We had amazing seats. I was a little scared about ending up on the camera!
Jonny Diaz was the opening act for the show. He sand a really funny song about being the opening act. And mentioned how the lights at his merchandise table were from his living room. He's the one that sings "More Beautiful You" (you remember, that video I posted a few weeks back?). Before we left, I got a picture. With him. and "the living room lights".
The middle act was Fee. They're pretty much the reason why I wanted to go to the concert. By the way, they have a new CD called "
Hope Rising
" that we bought that night and I love it! If you're looking for something to listen to in the car or whatever, I think it's great driving music. I mean, I drive 30 minutes to school everyday, so I should know, right? Anyways, when we were leaving (we left a little early so I could go home and study, lame, I know!) Mom and I spotted them by the tables, so I HAD to have a picture. Because, you know, they're my favorite. :)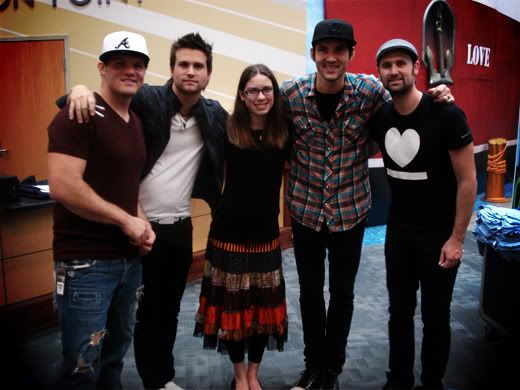 As I mentioned earlier, we left a little early. We heard MercyMe sing like 3 songs and then we left. They're just not my favorite, and I had an Astronomy test on Monday (we'll see how I did tomorrow...). After a pit stop at Arby's, the Madre and I headed home after a night of fun and music. Yay. :)