1. This week has been:
And...my mind goes to test taking. Great. So. If you can't tell, I've had a busy week. Good week, just busy. Monday, I had class, then had to drive to Auburn for stuff. And then Tuesday, I went over to the school I'm doing my observation at for my initial meeting. My teacher is nice, the kids are pretty cool, and I think first grade will be a lot more fun than fourth. Now, if we can just get the energy levels down a bit...
After I got finished with my observation, I went to lunch with Mom. W
e had Subway. Yum. And since it was such a pretty day outside, we took our lunch to the park to eat it. And we took pictures with my cellular "for the blog"! Ha! I love it!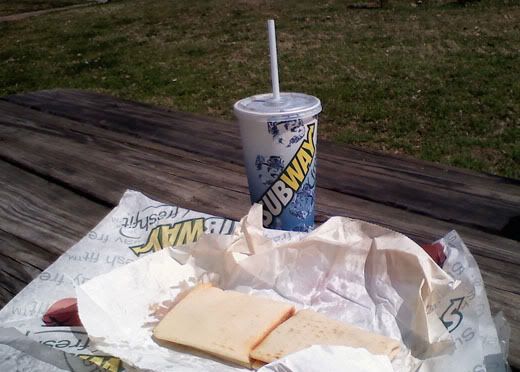 Then, I had a huge scary Math test on Wednesday. I'm not a fan of this Elementary Math stuff. It was soooo much work and took foreverrr, but I finally finished! Then, I had a meeting with my advisor and she said I might actually graduate on time (May 2010) . Um...YAY! Bad news is I'm 2 hours short of being a Junior, so I have to wait longer to register...not fun.
And then today....I did Ed.Psyc. No, really. I think that's all I did. Oh-and read a People magazine while Mom got her hair did and I procrastinated on the Ed.Psyc. And I may have gotten dressed and eaten lunch and dinner. And some cake. But, other than that, EdPsyc defines my day. And NOW, I get to go listen to some classical music for a concert I have to attend for my Music Appreciation class. So not fun.
But. Yeah. That's my week. Maybe this weekend will be more fun! :)