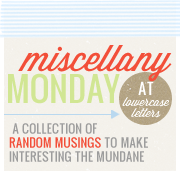 I recently decided that I wanted to take part in the 101 in 1001 experiment/project thing. I read about it on one of the blogs I read and I really liked the idea. I mean, it sounds really fun. You can view all the fun details by clicking on the link on the left sidebar. And...if you want to join me, I think it would be really fun to read everyone's lists, so comment and share the link!
The Passion Conference (a Christian conference for college aged peoples!) is doing a LiveLink on September 27 at 8:30pm eastern time. I watched it earlier this year with my Mom and it was fun and exciting. I'm hoping (and have my ticket) to go to the conference in January in ATL. You can go
here
for more information. Oh- and it's FREE. So, get a group together to watch it! Yay!
That website I spoke about earlier? Is about ready to go! I'm terribly sorry (okay, not really) about all of the address changes I've put everyone through these past few months. But, I think I have it the way I want it now. My blog will stay hosted on blogspot (unless some crazy event happens...). So, if you want to get updates, click on "Follow" up by the blogger search bar thing. It's super easy! My domain (laurenadam.com) will be used for my website. It's not totally how I want it and all the pages aren't live yet, but it's a work in progress (and will be for a bit!). So, stay tuned for more on that one!
And....I think that's all for now.