As I was sitting at the computer the other day...an inspiration struck me. Why don't I create a blog hop? I mean, come on, it's not like I don't have enough on my plate already. So, Life at This Moment was born. Or, um, created. I haven't birthed anything recently. Or well, ever. But, you get the idea. So, you're welcome to play, just grab the code to the button and link back here to we can all see what you're doing at this moment! Oh- and don' forget to link up to the inlinkz at the bottom of the post, so I can visit you and leave you a comment. Because comments are fun. :)
Basically, each week I'll post a few "questions" of sorts. Some will be the same week to week, and some will be new. We'll just see how this goes! (Mom-I think it's part of your motherly duties to do this.)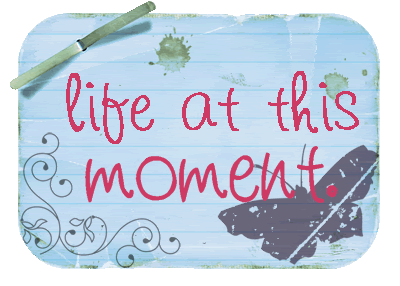 Introduce yourself....
My name is Lauren. I'm nineteen years old (twenty in a month and eight days!). I'm a sophomore/junior in college. Elementary education major. I like the color pink and princesses and cupcakes, too. Life dreams: Learn to sew. Master the art of fondant. Learn to bake something other than brownies, actually. I teach Sunday School to cute second graders every Sunday morning. They're my favorite. And...I think that's all you need to know. :)
I'm listening to....
I'm reading....
Genesis from that book called The Bible
I'm thinking about...
Radical- And how I'm going to spend time in another context.
I'm inspired by...
Ali Edwards. When I grow up, I want to be creative like her. :)
5 favorite links of this week...
Random Picture of the Week...
Add your link below and join in on the fun! If at all possible, link directly to your LATM post!