I've come to the conclusion that I'm not a really great blogger.
I don't blog as often as I'd like to.
I kind of always imagined that once I started blogging I would blog about my everyday life and with pictures and it would be all fun and exciting.
But, honestly...the excitement quotient of my life has not exponentially increased since beginning blogging. And I don't really take more pictures. I should work on that. :)
But, since I want to make an effort to blog more about what I'm doing...
I'm going to tell you what I've been doing. Since I have an awesome life and all.
Ha. Very funny.
We can start on last Saturday. Since that is the only day I have a picture of.
You see, on Saturday we went to Birmingham to go shopping. We found an outdoorsy outlet store. They had a Chaco sale. Just not in my size.
Tear, tear.
And then, we went to a really cool Schlotzsky's/Cinnabon. I'm competely serious. It was a Schlotzsky's with a Cinnabon combo deal (like you order at the same register). I mean, the best of two worlds. AND they brought your food to your table. Super cool. And then we went shopping at the Summit/Galleria. Mom and I went to Anthropologie (my favorite! Someday I want my house to look like
this
) and Vera Bradley (I
needed
a lanyard to put my
AUM School of Education nametag on. I have to look cute you know!). And then, we went to JCrew. And I found cute shorts on sale in my size. Um. Yay. And then....we went to the Melting Pot for dinner. They had fondue. And it's a nice restaurant. And we had two boys....so imagine how that went. Here's a picture....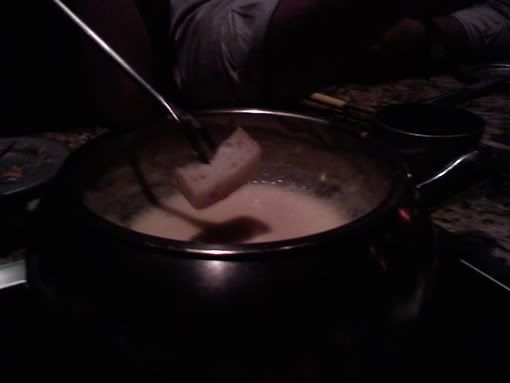 Annnnd....then there was Sunday. I taught Sunday School to cute second graders. We played some games. And learned about responsibility. And then...we went to Mimi's for a Father's Day lunch. I'm not going to discuss that visit. Let's just say that right before they brought out the food, they decided to let me know that they we out of the quiche I wanted. So....I had Zoe's for lunch instead. Then, we ran some errands in Montgomery. Got the boys some of those oh so ugly Crocs.
Then, came the school week. On Monday and Tuesday I had class at night. Tuesday morning I went over to ARC where I'm doing some observations for my special education class (that's a blog post all for itself....you would be amazed at what goes on. But I have to get my hours done first. You know.) Then, when I left ARC, I headed to a children's ministry pool party. Where I of course didnt bring a swimmy-suit. Of course. So, I just stuck my toes in. And then....homework. Class. Science lab. You know the drill.
That brings me to today. Today is Wednesday. Wednesday comes in the middle of the week. I am halfway there. This morning, I got up to finish a presentation that i presented at approximately 1:30pm. I thought it went well. Then, when I got out of class, I worked on some homework and made my to-do list with a friend. Then, she got the great idea that we should go to Chick-Fil-A for dinner. And I LOVE Chick-Fil-A. I could eat it...um...seven times a day?
(Click on the video to go to YouTube and watch it. Because this blog is stupid and cuts off part of the video...)
Now that I went off on a completely random tangent....
And so, we went there for dinner before heading to Elementary Math (also know as the MOST boring, LEAST useful class on the planet Earth). We learned about angles. And curves. And polygons. And used protractors. And then, I came home and blogged.
So...I think I know now why I don't blog more. I ramble.
I need to get a life.
And go on a vacation.