It's beginning to feel a little bit like fall here in Alabama. I mean, it will probably be hot again in a week, but it's really nice to be able to go outside and not get all sweaty and gross-like. I even ventured into long sleeve+jacket territory today. It was nice.
Since the seasons are changing, I thought it was time for a blog change too. I mean, I hadn't changed it since the spring really (not counting the 2 months on wordpress. that was
different
). And I like these Fall colors. I was trying to think
Anthropologie
type (since I really like that store even though it is way over my budget). I'm not sure how successful I was on that one...but its the thought that counts, right?
I also added a new blog button (I know, yall are sick of these) since the old one...
A. Says "Lauren in Chicago".
B. The whole "I'm not in Chi-town anymore thing"
C. Totally clashed with the new color scheme. Even I knew that one. :)
So, you can go to the sidebar and get the code for the new one. It looks like this: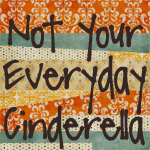 Pretty. I know.
In other news...Auburn is now ranked number 8 in the AP Poll. Now, if we can just keep winning games (namely that Iron Bowl), Lauren will be one happy camper. I've came to the realization that my life has changed a lot in the last two years. I mean, I care about this football thing now.
When I first started college at Auburn, I knew absolutely nothing about college football (or football in general, really). I wasn't going to even get tickets (gasp!) and really kind of hated the idea of going to a football school. But, I was talked into getting tickets by some people that had my best interests at heart and told me that I "really had to" get tickets. I mean, it was Auburn. So, I went to my first ever college football game my freshman year in college. And I liked it. Through that year, I got educated in all things football related. Things like how to wave your shaker, what to yell while waving your shaker, and when to wave your shaker (that's the important one!).
And, I left in love with this thing called college football.And I figured out why everyone says the SEC is the best conference. So, now...I care about football. I do. I've learned to hate Alabama with a passion. I don't mind spending Saturday watching games on TV. And if it's an exciting game, I'll even listen to the game on the radio. I yell at the TV. It's possible to cry when we lose. Because, you know what? It does matter.
I know more than how many points a touchdown is worth. (Even though it's not that much more. My daddy laughs at me sometimes. Especially my terminology. Um, note to self: It's quarters, not innings. And that thing they kick field goals through? Is
not
a touchdown post.)
A southern girl is a girl who knows full and well that she can open a door for herself but prefers for the gentleman to do it because it demonstrates a sense of respect. After all, every girl wants to be treated like a princess. We know how to make sweet tea and grits while telling you everything about any football team in the SEC. We pick our battles and fight with the heart of a pit bull while still maintaining grace and elegance. Our mystique is that of a soft-spoken, mild-mannered southern bell who could direct an army, loves her momma and will always be daddy's little girl.
It's weird. I never thought I'd say that I would like football. I never thought I would say I was an Auburn fan (I really liked my neutral status). And I most definitely would never classify myself as a Southern girl (I mean, redneck, anyone?) But, what can I say? Things change.I like football. I love Auburn. War Eagle!
Oh fall.
I love you and everything you bring. From long sleeves and jackets to Friday night football. From the leaves changing colors to SEC football season. I love you. And you might possibly be...my favorite season.